Fully Custom Load Cells and Torque Sensors
Fully Custom Load Cells and Torque Sensors
When space, cost, and performance are critical, an existing part can be redesigned to operate as a load cell or torque sensor within an existing system or test setup requirement.
Sensing Systems has pioneered the specialized designs of "non-standard" or "fully custom" load cells and torque sensors and, since its founding, has customized sensor designs to meet customers' requirements.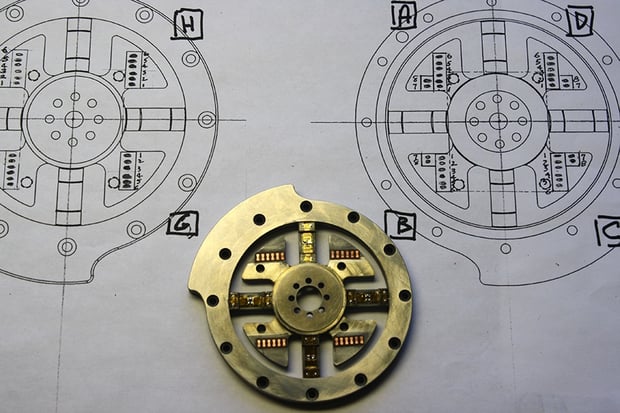 The benefits of a non-standard load cell or torque sensor approach are numerous. The requirement which most typically drives a non-standard or fully custom sensor is to have zero change in overall system geometry. When transforming an existing part into a force or torque sensor, there is almost always zero change in height, width, or thickness of the part. By integrating sensing features directly into the part of interest, the customer receives the force or torque measurement at the precise location of interest. There are zero losses to friction or misalignment, which can easily occur during assembly of an off the shelf load cell in line at the location of interest. Additionally, the overall complexity of the system can be greatly reduced using the fully custom load cell approach. Extra mounting or alignment features can be kept to a minimum and are usually no different than prior to the addition of any sensing features.
The upfront time and effort required to design and manufacture a non-standard or fully custom load cell is not insignificant. However, this approach will, more often than not, pay for itself with the long term savings, given the reduced number of parts and reduced assembly time. For certain requirements, this additional effort is worth the expense given the precise and accurate measurement at an otherwise impossible location.
The approach of integrating a non-standard or fully custom load cell into an existing assembly or test setup has an infinite amount of applications. The engineers at Sensing Systems have transformed many machine components into force or torque sensors. Everything is a possibility, from the complex – custom rotating propeller shafts into multi axis rotary force and torque sensors, to the simple – cylindrical rams in a press into load cells.
Once a fully custom load cell has been designed, it must be integrated with the electronics acquiring the measurement signal. Sensing Systems load cells all offer multiple signal output options – mV/V, digital, 0-5 or 0-10 VDC, and 4-20 mA. These output options can be matched to any instrumentation, PLC, or DAQ system.
Need help customizing a load cell or torque sensor for your application?
We will analyze the requirements of your application and provide a recommendation.
Calibration is the comparison of a load cell or torque sensor to a reference standard with a known accuracy. The goal of calibration is to determine the accuracy of the instrument, establish traceability…
read more